films made by women about everything for everybody
filtros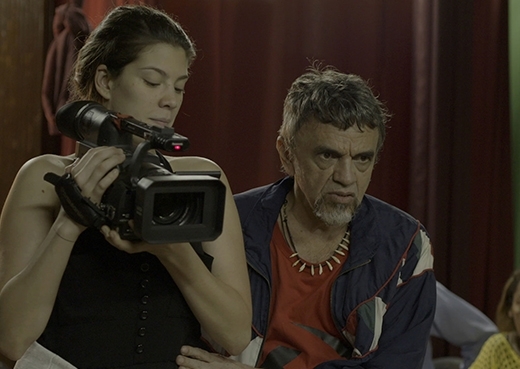 June 29th
By Minom Pinho, FIM Festival`s director
Over the past few years, feminist movements have taken the lead in major festivals and film awards in Brazil and around the world. The unfavorable working conditions for women in the film industry gained unprecedented strength and proportion in history. Great Seventh Art idols raised their voices for better working conditions, the end of harassment, wage equalization in productions and the end of female stereotypes commonly reproduced on screen, influencing public policies and changing market paradigms.
How many cinematic narratives are being led by women? How many characters in documentaries, fictions and animations are women? What do these characters say about the women we know or want to see in action in the world? Do they have a name, a speech, complexities? Or do they emerge on screen just to endorse the protagonism of male characters? Are public funding policies for films perpetuating gender inequality or are they on the way to equality?
In a moment of intense growth of the consumption of audiovisual contents in multiple platforms, it is paramount to rethink the authorship of these contents, the plurality of audiovisual narratives and the representativeness of women in films and series.
These are new times and women are clamoring for their space on screen and behind the cameras in direction, screenwriting, production, distribution, direction of photography, in fiction, documentary, animation, direction of art, edition, in performance and other functions. Cinema is a transforming, political and dreamlike force.
As the feminist movement in cinema grows more and more complex, it is impossible to leave the intersectional feminism questions aside. Correlations between the issues of gender, race and class can not be avoided. The voices of black women and other ethnic groups, lesbians and trans women arise: cinema as a space to fight invisibility, inequality and oppression.
FIM – WOMEN'S INTERNATIONAL FILM FESTIVAL comes within this context. Not by chance, in this first edition, the festival brings national and international competitive screenings of films exclusively directed by women, two special screenings addressing women`s resistance and persistence, as well as training programs and debates.
Feature films are a space of power in the film industry. Direction is the space of power in the film industry. Who are the women in Brazil and around world occupying such spaces? What movies are they producing? What language innovations are they proposing? How to magnify their voices?
The partnership with Kinoforum Cultural Association came through convergence of meanings. The institution holds the renowned São Paulo International Short Film Festival and was a pioneer in dedicating a space for appreciation of women`s short films by means of the Feminine Plural screening. It adds its solid activity to FIM by supporting the empowerment of new female talents, now from short to feature films. The calendar of festivals in the city of São Paulo was in need of a space dedicated especially to the recent films by women, as a universe of diffusion, research, activism.
In Brazil, the number of women participating in the audiovisual sector demands concrete actions and policies. Among the national films released commercially in theatres in the country in 2017, only 21% were directed by women, although 51.5% of the Brazilian population is female. Moreover, according to a recent survey of gender and race data published by the Brazilian Film Agency - Ancine, among the 142 commercially launched in 2016, none of the Brazilian films was directed by black women. For real. None of them. This has to end.
I dream of the day when all festivals, contests, movie theatres, TV screens and mobile devices are equally filled by creations of men, women and transgender of all ethnicities: cinema as a place for multiple expressions, imaginations, languages ​​and narratives.
The FIM festival comes to add something to so many other initiatives fighting for a new era for women in the audiovisual sector. The goal seems to be simple: having 50% of Brazilian films released in cinemas directed by women. Until then, it is worth checking out the carefully selected films curated in this first edition of FIM and the uniqueness of the talented filmmakers gathered here. They announce on screen the end of women`s underrepresentation in cinema. The time is now.
relacionados