the honored, zezé motta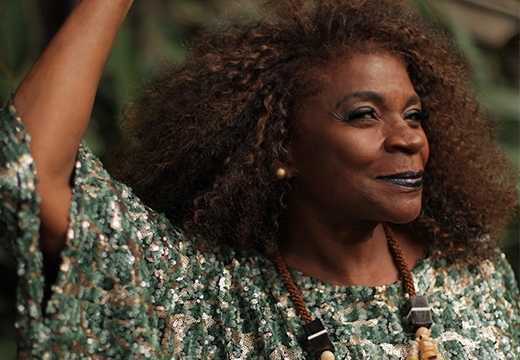 Foto de Steph Munnier
Zezé Motta`s (Campo dos Goytacazes, RJ, 1944) brilliant career as a singer, actress and activist thrills and inspires. As an actress, she has brought many outstanding characters to life in national films and TV in more than 50 years of career, placing the multiple dimensions of onscreen female and black protagonism at the centre of the national artistic scene. She began her career studying theatrical performance at O Tablado in Rio de Janeiro. She made her professional debut in 1967 in the musical Roda Viva by Chico Buarque, directed by José Celso Martinez Corrêa, and has become a constant stage presence in historical drama such as Arena Conta Zumbi and musicals such as Godspell and Abre Alas, based on the life of Brazilian composer Chiquinha Gonzaga. She achieved fame through Xica da Silva, one of the first characters in national cinema to bring the strength of the black woman to the foreground, no longer submissive but a transforming agent of her own life and reality. The film is part of the selection of the Festival in a special session as a tribute to Zezé. Her partnership with director Cacá Diegues gave Zezé Motta the Candango award as Best Actress for Xica and international success, followed by four other films: Quilombo, Better Days Ahead, Tieta and Orfeu.The director says that if Brazilian cinema had a face, it would be Zezé Motta's. Along with Cacá, besides the powerful Xica da Silva, Zezé performed in Quilombo the power of Dandara dos Palmares, a black warrior married to Zumbi. Zezé worked with great Brazilian filmmakers such as Hugo Carvana, Arnaldo Jabor, Nelson Pereira dos Santos and Jeferson De in 45 films in which she acted. The women who directed Zezé are Tereza Trautman, Maria Leticia and Tizuka Yamasaki. On television, she also challenged stereotypes, since her debut performance in Beto Rockefeller (1968). An example was the romantic pair with Marcos Paulo in Corpo a Corpo (1984-1985). She portrayed the landscaper Sonia, who was not accepted by the family of Cláudio, portrayed by Paulo. At the time, the interracial couple stirred controversy yet ending up in marriage at the end of soap opera. Zezé Motta's strength and characters defy female stereotypes that are so common in films and TV. New imagery arise from her performances and foster greater place for female protagonism on screen, behind the cameras and in life. Hail, Zezé Motta. The power of your talent, your smile, your fight and your voice are reasons for celebration and reverence, inspiring the FIM and hopefully the end of all forms of invisibility, inequality and oppression in life and in arts.
Filmography
[2017] O Nó do Diabo
[2017] A Comédia Divina
[2016] Pitanga
[2014] Irmã Dulce
[2014] O Lucro Acima da Vida
[2012] Gonzaga - De Pai pra Filho
[2010] Bom Dia, Eternidade
[2010] Bróder
[2009] Xuxa em O Mistério de Feiurinha
[2009] Em Quadro
[2008] A Ilha dos Escravos
[2007] Deserto Feliz
[2006] O Amigo Invisível
[2006] Kinshasa Palace
[2006] O Cobrador
[2005] Quanto Vale Ou É Por Quilo?
[2004] Xuxa e o Tesouro da Cidade Perdida
[2003] Carolina
[2003] Viva Sapato!
[2003] Saudade
[2002] Xuxa e os Duendes 2 - No Caminho das Fadas
[2000] Cronicamente Inviável
[1999] Orfeu
[1997] O Testamento do Senhor Napumoceno
[1996] Tieta do Agreste
[1993] Vênus de Fogo
[1992] A Serpente
[1990] O Gato de Botas Extraterrestre
[1990] Dias Melhores Virão
[1988] Natal da Portela
[1988] Prisioneiro do Rio
[1988] Mestizo
[1988] Sonhos de Menina Moça
[1987] Anjos da Noite
[1986] Jubiabá
[1984] Para Viver um Grande Amor
[1984] Quilombo
[1984] Águia na Cabeça
[1978] Tudo Bem
[1977] A Força do Xangô
[1977] Cordão de Ouro
[1977] Ouro Sangrento
[1976] Xica da Silva
[1974] A Rainha Diaba
[1974] Banana Mecânica
[1974] Um Varão Entre as Mulheres
[1973] Vai Trabalhar, Vagabundo!
[1970] Cleo e Daniel
[1970] Em Cada Coração um Punhal